The work of CNEWA in the Holy Land demonstrates the many ways the papal agency and its generous donors "try to be instruments of hope" amid suffering, said Msgr. Peter I. Vaccari in a live broadcast from Jerusalem on 8 June.
"We're not the source of hope. The source of hope is Jesus alone," he told a virtual audience that tuned in on Zoom. "But we are the instruments. We are his instruments of hope."
The online seminar is part of a new monthly series, called "Connections With Msgr. Peter," in which CNEWA's president will communicate directly with benefactors and friends with updates on the work the agency conducts in 15 countries around the world. 
Msgr. Vaccari was in the Middle East this week for a series of meetings with the staff at CNEWA's three offices in the region and to visit CNEWA-funded projects. Tresool Singh-Conway, CNEWA's chief financial officer, and Thomas Varghese, director of programs, accompanied him.
In addition to visiting Jerusalem, the CNEWA delegation had traveled to the Gaza Strip and will proceed to CNEWA's offices in Jordan and Lebanon.
With a vista of the Old City of Jerusalem behind him, Msgr. Vaccari spoke during the webinar of the "very difficult circumstances under which the people in Gaza right now are living."
He said he was struck "very deeply" by the importance of psychosocial counseling for many families in Gaza, by the number of homes and businesses that had been destroyed by missiles, and by the dedication of health care workers, who have been trying to bring some relief to the people's suffering. 
Joseph Hazboun, director of CNEWA's Jerusalem office, and two of his colleagues joined the webinar. 
Mr. Hazboun spoke of CNEWA's support of local church-related institutions in offering health care, education and various social services to the general population in Israel and Palestine. 
His office had conducted a survey during the height of the COVID-19 pandemic in collaboration with Dar al Kalima University in Bethlehem, which revealed about 300 church-related institutions provide health care, education and social services in the region, serving one-third of the population in Palestine, Christian and Muslim, roughly 2.5 million people. 
While the Christian community is only 1.5 percent of the population in Palestine, these church-related institutions combined form the third-largest employer in the Holy Land, providing almost 10,000 jobs. 
However, he added, the support they receive from governmental and other local funding agencies is not proportionate to the extent of the services and employment opportunities they provide for the greater community.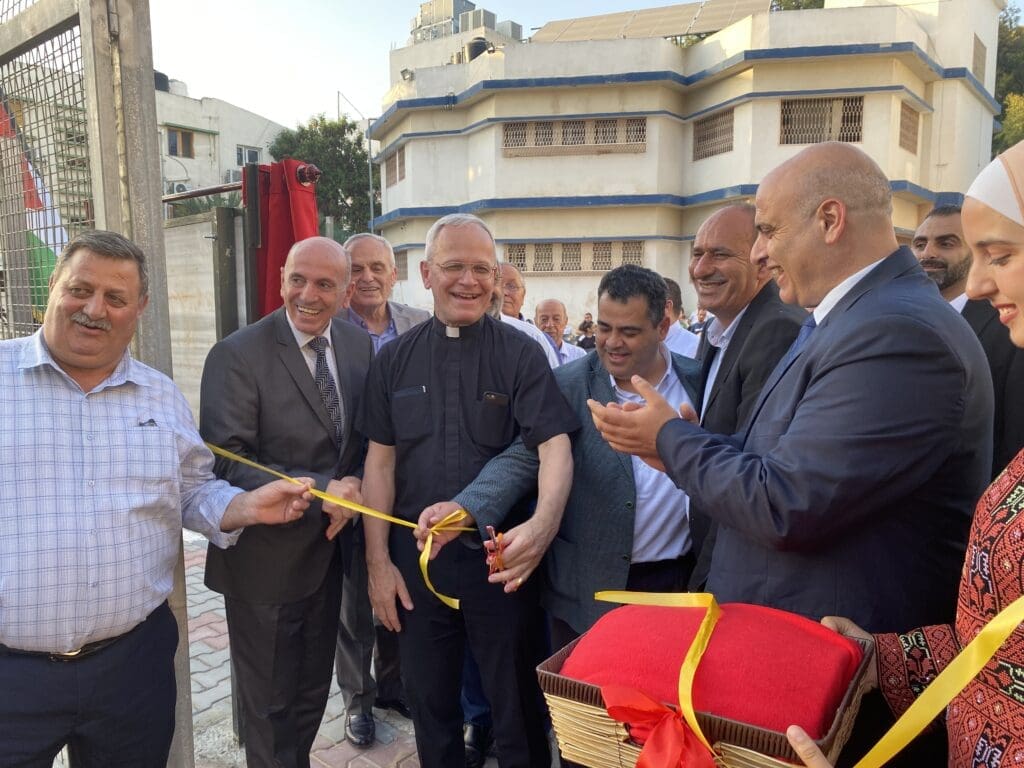 For this reason, he said, the CNEWA office in Jerusalem has been focusing on supporting these institutions, as well as a number of pastoral programs for the Christian youth, including catechism and Bible camps. The pastoral programs help the youth connect their identity as Christians with the land where Jesus lived, walked and spread his message.
CNEWA's Jerusalem office has also initiated a program to prepare young people for eventual leadership in the Holy Land's many Christian institutions. This training program is implemented in close collaboration with the various youth movements in the church, including Scouting, said Mr. Hazboun.
"This serves also to strengthen the Christian presence in the land where Christianity began," he said. "We don't want the Holy Land to turn into museums, as some pessimistic people project."
It is important for these services to be imbued "by Christian values, which are also human values that concentrate on human dignity," he said. "These values are provided along with the services and the loving care of the church."
Abeer Atallah, the projects assistant for the Jerusalem office, said CNEWA's work goes beyond the distribution of funds. 
"We are giving hope and we are finding opportunities in everything," she said. "We are directly working with people from our hearts. And, you know, investing in people is harder than investing in building and construction. You need maybe one year to construct … [a big] building, but more than three to five years to build [up] a person."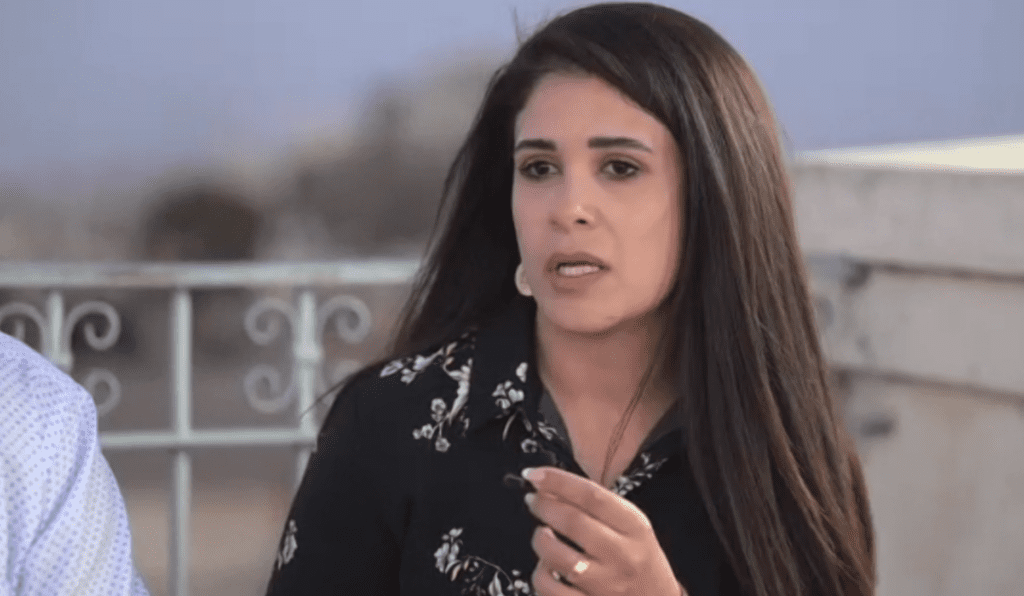 Mr. Hazboun spoke of two young men in Gaza from families of little means, who were contemplating leaving to find work abroad. Thanks to CNEWA donors, they received scholarships to complete university studies in Gaza, where they now work at church-run institutions.
"They were able to find hope and a future for themselves in their homeland, in Gaza City, notwithstanding the challenges," said Mr. Hazboun, adding that many young people, who have benefited from CNEWA scholarships, share a similar story.
Gaza "continues to be a sign of hope," he added. Among the 2.2 million people in Gaza currently, the Christian community numbers only 1,077 people, yet it operates 14 institutions, including hospitals, health care facilities, cultural institutions and schools, serving more than 300,000 people every year. 
"I think they are a small light in Gaza and a portion of salt in that strip, devastated by war, high unemployment and poverty," he said, alluding to the exhortation of Jesus in the Gospel of Matthew.
During the Q&A period, Msgr. Vaccari and Mr. Hazboun addressed how the food shortage caused by the war in Ukraine was impacting the Middle East. 
"Unfortunately, our small, tiny area … is easily affected by any conflict that happens anywhere in the Middle East or even in the whole world," said Mr. Hazboun.
"Most of the funding agencies that support Israel and Palestine are also active in the whole Middle East region and North Africa," he explained. "So, the same portion of funding that comes to the Holy Land, all of a sudden, is divided over three or four conflict zones, which means less support to this area."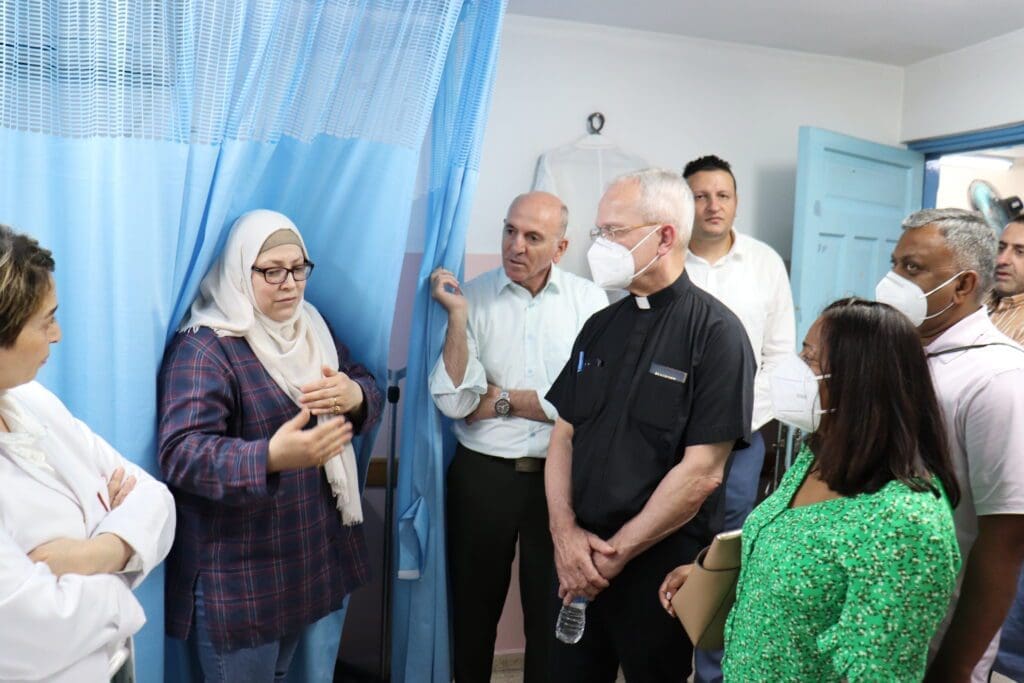 As well, many regular donor agencies have suspended funding currently, as they wait to see how much aid will be needed to support the humanitarian crisis created by the war in Ukraine. As a result, some projects in the Holy Land have either been put on hold or have received less funds than expected. 
Furthermore, the Middle East has not been immune to inflation in food prices, namely of bread due to the shortage of wheat, and in building supplies, due the shortage in iron and other metal. Projects have become significantly more expensive, with some increasing by almost 30 percent. 
Msgr. Vaccari spoke about the collaboration between CNEWA and Aid to the Church in Need, most recently on a CNEWA-organized pastoral visit to Ukraine, Poland and Slovakia, in response to a question about whether the two papal organizations engage in collaboration or duplicate each other's work. 
Mr. Hazboun explained that his staff is in communication with various donors and funding bodies in Europe and North America, including Aid to the Church in Need, specifically to avoid duplication.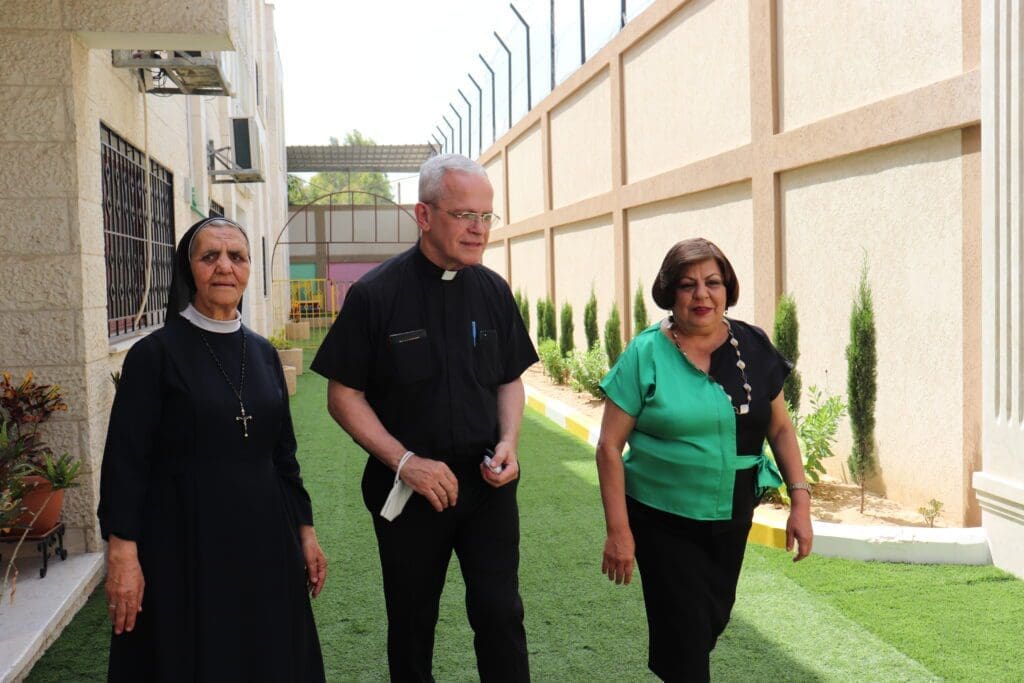 In response to a question about how the conflict in Israel and Palestine affects the Christian population, Mr. Hazboun said conflict always impacts the weakest community most. 
"Let's say 10,000 Muslims from the West Bank opted to leave, that's 10,000 from around 3.5 million. So, it's hardly a number to mention," he said. 
"But if 100 Christians decide to leave Jerusalem, that really touches the lives of the Christian community because we have only 9,000 Christians in Jerusalem," he continued. "If 100 from Gaza decide to leave, that's 10 percent of the Christian community."
The next "Connections With Msgr. Peter" is scheduled for 13 July. Sign up for CNEWA's digital newsletter for registration information.
ttps://cnewa.org